Monday, January 30, 2012
Just so you know, I totally completed my weekend goal of watching the first season of Downton Abbey. It is TOO good. Now I'm onto the second season in time to catch up to the new episodes on TV. I am obsessed. Which also means I didn't do much over the weekend. I worked on some stuff with a looming deadline, ate some Mini Eggs and hung out with the fam. I love me a low-key weekend.

So, this is basically what I wore all weekend. I'll admit, black and red isn't the most creative color combination in the world -- it's pretty basic. But when I'm in a rush, it's an old standby that I know looks good with zero effort on my part. It seemed like when I got ready this past weekend, it was all under a super fast time limit, so I gladly went with stuff I knew looked good.

Like when my husband bumped up our date night to accommodate the return of Jimmer against the Jazz on TV (only true basketball widows know what I'm talking about)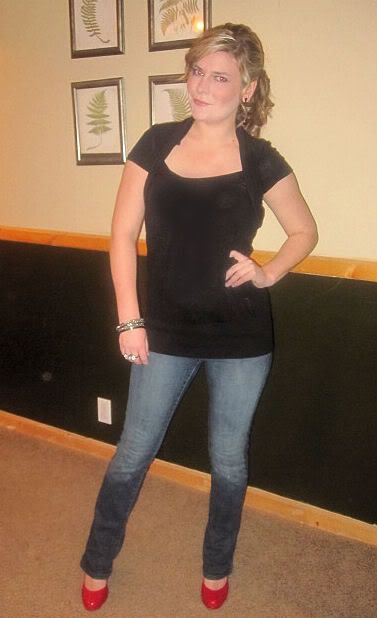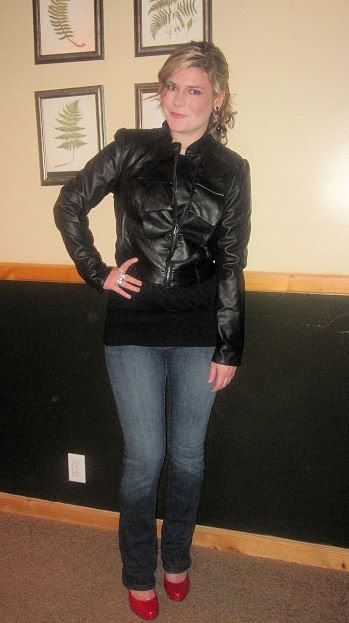 Top: I can't remember and it's in the wash now so I can't look at the label.
Jacket: c/o mod bod
Skinnies: Refuge
Shoes: Dear
Earrings and ring: F21

When we first took these pics, the flash made my shirt super see-through so I had to add a cami. I felt like such a celeb!

OMG STORY TIME! So, at the last minute we decided to bring the kids along with us to our "date night." It was completely disastrous. I had called ahead for reservations for two, so it threw them for a loop when we showed up with four. Before our dinner arrived, my son had spilled his root beer and an entire salt shaker, then proceeded to spoon spaghetti into his jacket when we weren't looking. Then, I was imitating the way my son eats spaghetti and my daughter laughed so hard she totally vacuumed up a noodle into her wind pipe and then choked for a full minute, resulting in my performing a reformed Heimlich and her barfing onto her lap. Then, they brought out dessert for the kids, which was a cup of pudding decorated like dirt with worms and my son become so convinced that it was REAL dirt and REAL worms that he carried it home with him and has been treating it like a pet ever since.

It's OK though, because we left a really good tip and promised ourselves to never ruin our date night with kids ever again.

Then, Sunday morning started with an early meeting for the husband, so I had an hour to get me and the kids bathed, dressed and fed all by my lonesome, so red and black came to my rescue again.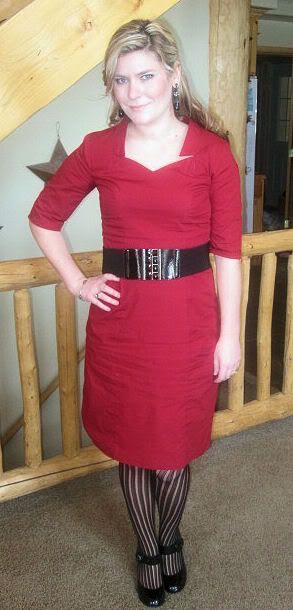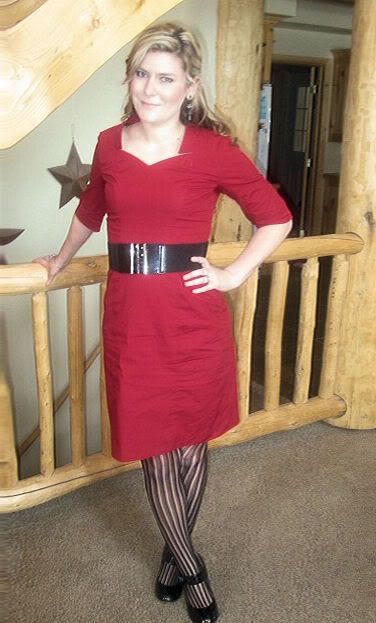 Dress: c/o eShakti
Belt: c/o mod bod
Tights: F21
Bracelet: Vintage
Shoes: Steve Madden
Ring: Lia Sophia

(Ignore the wrinklage -- that's totally a word -- this picture was taken after three hours of kid wrangling and after our Saturday night escapades, I didn't care.)

Check out this bracelet too. It's one of my fave pieces from my collection because it was my late grandmother's and she had amazing taste in jewelry.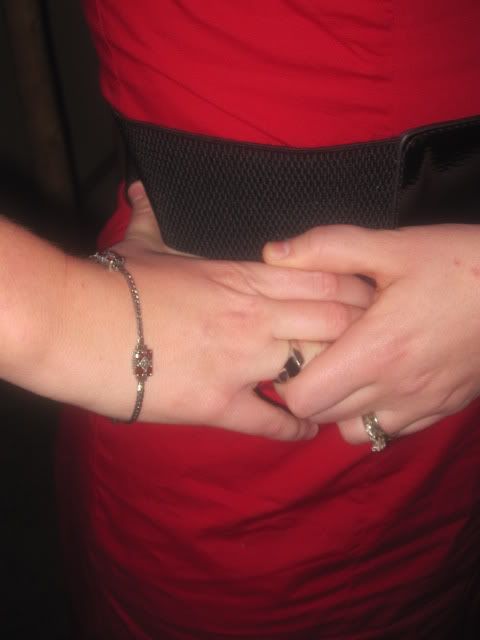 The coolest thing is that the jewelry is stamped with a "JC" hallmark, which are mine and my hubs' initials. I would say that's pretty cool.

Also, I'd like to point out that while I was uploading pictures, I found this on my camera: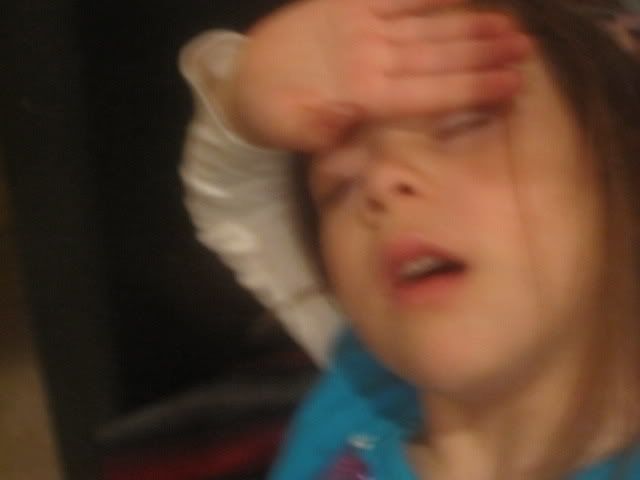 Yeah, that's my daughter taking a dramatic selfie on my camera. What...the....heck.

Anyway, I got all of the red and black out of my system for now, so expect to see more creative color combos in the future. Unless Jimmer is playing again.

Also, on Wednesday I'm going to answer some of the questions that have come through my email inbox. If you have a fashion-related question you want me to answer, send it on over and I'll include with with this week's Q&A. You can also post them on the Facebook page or in the comments of this post if you're so inclined! I promise I won't make fun of you.

OK, I might make fun of you. But I'll also answer your question too, so it'll be worth it.

Happy Monday everyone!