Wednesday, June 24, 2009
K, so this is reposted from last year. But because its finally getting warm, and finally time to show some skin, we need to discuss swimwear. I'm using the same picture but adding some new commentary aka stuff I've learned since I had my babies.

Lets first get this out in the open. If you've had kids, your body does not look the same as it used to. Even if you were blessed with hyper elastic skin and major six pack abs, your body has totally redistributed, and things are going to have to change. For instance, before I had a baby, I was a hardcore bikini girl, the smaller the better. Afterwards, I realized my butt looked nothing like it's 18 year old counter part, and where I still was pretty happy with my tummy, I had to choose something new in the way of bottoms. I switched to a boy short bottom, and am totally happy and comfortable in them.

You don't want to head out to the beach proclaiming your body issues to the world, obviously. Yet you still want to be comfortable enough to move around without a towel wrapped around your neck. Its a slippery slope.

So, pick the thing about yourself that you are most self conscious about while in a bathing suit, and only worry about minimizing that. You only have time and energy to worry about one, trust me. Not to mention, 1) Every other woman at the beach/pool/waterpark is too concerned about what their body looks like in their swimsuits to care about you 2) Guys are so horny that they are just excited to see so much flesh, stretch marks or no, and 3) Sunlight is so much more forgiving than fluorescent lighting, bathroom lighting, fitting room lighting, etc. So whatever you have pinpointed as ugly there probably doesn't even show up outside.

Can we also make a statement about confidence? I'm not going to lie. I totally judge women who come to the pool wearing like, a snowsuit because they hate their bodies so much. They are just proclaiming to the world their body issues AND pointing them out to everyone. RELAX with the body hatred people! Just find something flattering and move on. No one at the pool cares in the slightest if you have cellulite or jiggly arms.

So I found some super cute suits that aren't scary mommy suits, but will still do enough coverage to make you feel okay about wearing them.



K, I love this one from Venus for general coverage without looking like a grandmother. The one shoulder strap updates the whole suit, while the tankini top and skirt bottom mean you're covered and comfortable. Color is super cute too. I saw a woman at the pool wearing this type of suit and she just rocked it. Like okay, I don't have the perfect body, but I still look hot in this.



If you don't love your tummy, the cuteness of this suit is literally astounding. It's shirred across the stomach, which will camouflage any kind of lump or bump that you're concerned about. And halter top? So feminine and adorable. Cleave will thank you. (Juicy)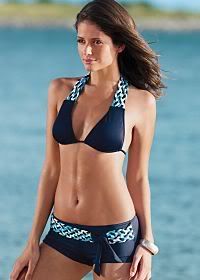 If you're like me and are okay with your tummy but don't love your butt or thighs, try out a boy short bottom. It'll give you the most coverage, without those high-waisted scary brief-type bottoms. Ew. Plus the belt on this is so cute. PS, Triangle tops are fantastic for little boobs *cough*me*cough*. (Venus) Lets point out that boy shorts are bad for really pear shaped people.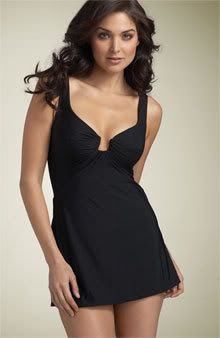 If you're not in love with either, try a cute little swimdress. Thankfully, because of the vintage '40s swimwear we are seeing this summer, they're actually totally en vogue right now, which is great for mere mortals like us, who aren't super models. I love this one because its spices things up with a cut out near the chest that says "Yes, I may be wearing a swim dress, BUT CHECK OUT THESE PUPPIES." (Nordstrom)

Now, if you're one of those people who does not enjoy prancing around the beach half nekkid, GET A COVERUP. Do not wander around with a towel tied around your chest, or in an oversized t-shirt. Shame on you. There are so many ADORABLE cover ups, I don't know why you would do that. CHeck out some of these beauties. Even if you don't see a cover up you like, head to your nearest F21, find a short short short cotton halter dress and wear it as a cover up. SO CUTE.



Ralph Lauren



Victoria's Secret



Venus



Venus

So moral of the story, you don't need to wear a turtleneck to the beach to feel comfortable with yourself. Get a HOT swimsuit and work it. Don't let it work you.